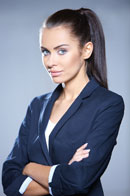 Uninterruptible power supply Supplier

info@upspowersupply.net
Three Important Metrics of UPS
From the perspective of professionalism, the most objective and reliable method to judge whether the UPS is good or not is to measure with the test indexes.
Take the input power factor which might influence the power supply quality of the power grid for example. The rated power factor of the traditional double-transfer UPS is generally around 0.8. As a result, around 30% of the harmonic current will influence the power grid. Finally, the transformer, cable, fuse and switch on the power grid will be heated and become fatigues. To change the situation should add the harmonic filter or change the six-pulse rectification into the 12-pulse rectification. This will cause two side effects. First, increase the cost, volume and weight of the power protection equipment, including the UPS. On the other hand, the consumption of the UPS will be increased, thus impairing its reliability.
The work efficiency of the UPS is an index directly related to reliability. Generally, the double-transfer UPS, limited by its power structure, can hardly ensure a high efficiency. Particularly, after the power factor compensation equipment is introduced, the efficiency can hardly be maintained above 92%. Though the UPS adopts the economical operation mode, it can ensure the efficiency to be above 97%. However, the economical operation model has abandoned the normal function of the UPS and adopts the "bypass direct power supply" at the sacrifice of basic
functions of the UPS
, including voltage stabilization and interference resistance. This has generated hidden dangers for users, which have undoubtedly been opposite to the original intention of the UPS. Therefore, the UPS is seldom adopted.
Besides, loading and overloading capacity are key indexes to reflect the quality of the UPS. Load requires protection of the UPS under two conditions. When the power grid voltage is abnormal, load protection relies on input circuit and no interruption of the UPS. When the load is abnormal, load protection mainly relies on the overloading and loading capacity of the UPS. Generally, the loading capacity of the traditional double-transfer UPS is low, because its load power factor is single, which can hardly satisfy requirements of the load with different attributes.